No historical information could be found on the Oaklands School in Castle Rock. That's because it  wasn't actually built at its current location at 1100 South Street, where it now rests.
The one-room schoolhouse might have caught your eye if you have children who have or now attend South Ridge Elementary. A bit of interesting local history, it was moved from a place just outside Castle Rock and now sits on the same property with the operating school.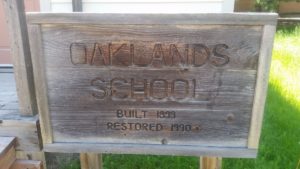 Oaklands School had traveled from an area west of Town—previously known as Oakland—near Wolfsenburger and Highway 105. Built in 1899, the 24 feet long by 16 feet wide schoolhouse had one teacher who taught anywhere from 5 to 11 pupils of varying ages and grade levels.
It had an oil burner to keep the children warm in the winter and several windows that opened to air out the room during warmer months.  The school operated until 1956, until it was closed, sending attendees to schools in Sedalia and Castle Rock. Sitting vacant for a number of years, it was periodically used for gatherings, until it was moved in 1988 to its current location to be restored by students.
In recent years, Oaklands School House is once again filled with the sound of young footsteps. It now used by the district to demonstrate early education in 19th Century schools to students.