In a little over a week, on April 15, a new Active Shooter Response Training Center will open its doors at Centennial Gun Club. Based on "Close Quarters Defense" or CQD, the tactical defense program will be led by Castle Rock resident and U.S. Navy Seal Veteran, Jimmy Graham.
The first of its kind in Colorado, the instruction seeks to train the brains of  students to respond with the best outcome, should they be approached by an armed attacker or find themselves into a life-threatening situation.
"The goal of training these citizens is to buy time and save lives by providing an immediate trained response before law enforcement arrives," said Graham.
Originally developed by martial arts specialist, Duane Dieter, during the 1980s, the "Close Quarters Defense," or CQD is a training program that has been utilized by the Drug Enforcement Administration (DEA), the Navy Seals, as well as numerous local and federal agencies for decades.
As a U.S. Navy Seal, Graham had years to study, use and perfect his CDQ tactics in the field as well as become a certified sniper. After retiring from active 'Seal' duty, he went on to then train federal, state and local law enforcement officers in the specialized combat around the globe. Now settled at home with his family in Colorado, he wants to share his knowledge to teach others protect themselves.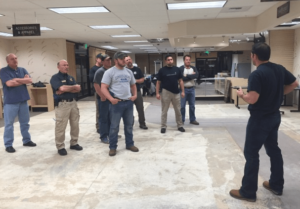 The new 6,500 sq. ft. facility will have 6 private shooting lanes, an open training floor, scenario simulation area and classrooms.  It will be open to businesses, churches, schools and any organization who is ready and willing to train their employees to be prepared for the worst.
Because being trained to think smart and fast on your feet, when facing an attacker, can save your life and others. "The more prepared you are," Graham continued, "the fewer lives are lost during a random attack."
GRAND OPENING
Active Shooter Response Training Center
@Centennial Gun Club
6649 S. Paris St.
Centennial, CO  80111
303.789.CLUB (2582)
www.asrtrainingcenter.com
Related articles: Castle Rock Unplugged: Jimmy Graham is working to protect you and your family